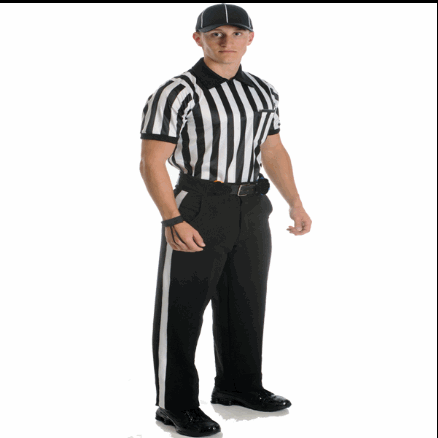 PFOA New Member's Special: Special Discount Package (FB-PFOA Special)
This item good only for brand new members of the Portland Football Official's Association (PFOA).  Any out of area orders for this package will be cancelled.

**********
These packages are already heavily discounted and are not eligible for any additional Discount Codes (please don't add one in checkout).
***************************************************************************

These specially priced PFOA New Members Discount Starter Packages are $115 each plus shipping:
Option #1:  Free shipping (7-10 business days) -- $115 total price

Option #2:  Expedited shipping +$25 (2-3 business days) --  $140 total price

***************************************************************************

Our PFOA New Members Discount Package includes one each of the following:
Richardson Flex-Fit Pulse 3 Black Hat: Sizes S/M or L/X
Smitty Short Sleeved 2"-striped Shirt: Sizes S - 4XL

Smitty Long

Sleeved 2"-striped Shirt:  Sizes S - 4XL
Smitty Black Standard All-Weather Football Pants: Ev

en sizes 30-52.  You'll need to have them hemmed somewhere...



Leather belt: Even sizes 30-58 -- order 1-2 sizes larger than pants

PLEASE READ ALL OF THE IMPORTANT NOTES BELOW
IMPORTANT:  PLEASE PUT YOUR SIZES FOR EACH ITEM IN THE "NOTES" SECTION ON THE ORDER PAGE PER ITEM EXACTLY AS DESCRIBED ABOVE! 
SIZING:  Go to this link for information about sizing:  https://usofficialssupplies.com/pages/product-sizing
Buying these items in the PFOA New Member's Special Discount Starter Package Special represents a substantial discount vs. individual product ($115 vs. $169) and regular Discount Starter Package ($115 vs. $139) prices.

Note:  There is no Discount Code to enter during check-out for this special package.  The discount is built into the price.
If you are mistakenly overcharged for shipping (charged twice) you'll be refunded later.
---
We Also Recommend
---