The Fitting Room -- Referee & Umpire Sizing Tips
GENERAL TIPS
When in doubt, go with the larger size. If you're unsure of the fit and and need something quickly, order two different sizes and return the one that does not fit for a refund.
Have any sizing tips that would be helpful to other customers? We would love to hear from you.
Shirts & Pullovers
Let's make this easy for you. In general, for umpire and referee shirts go with whatever casual polo shirt you wear. For example, if you wear a large polo shirt, you would go with a large basketball, football or baseball shirt (for behind-the-plate...size down one size for the bases).
Manufacturers do a good job with true-to-fit shirts and jackets. So, have no fear when ordering online.
Measuring Your Chest
With your arms relaxed at your sides, measure around the fullest part of your chest, keeping the measuring tape level and parallel to the floor around both the chest and rib cage.
Men:  Shirt, Pullover and Jacket Sizes (Men)
 
Chest (inches)
S
34-36
M
38-40
L
42-44
XL
46-48
2X
50-52
3X
54-56
4X
58-60
5X
62-64
  
Women:  Shirt Sizes
 Chest (inches)
S
30-32
M
34-36
L
38-40
XL
42-44
If your body measurement is borderline between two sizes, we recommend the higher size for a looser fit. However, see special considerations below:
SPECIAL CONSIDERATIONS

Umpire Shirts and Pullovers (baseball/softball)
All umpire shirts and pullovers are sized for wearing a chest protector underneath.
For in the field use for umpires, it is recommended that you size down for the best fit.
For example, if you wear 2X, order a 2X for plate work and XL for base work.
Women's to Men's Shirt Sizes
Where women's shirts are not available, you will most likely be able to wear a men's shirt by ordering 1 size smaller in a men's size than what you would wear in a women's.
For instance, if you wear a Medium Women's T-Shirt likely a Small in the Men's shirt would be what you want. However, you'll want to use you best judgment based on your body size.
CURRENT TRENDS
The current trend in umpiring is to wear your jacket and shirt tight, not loose. This is especially the case for umpires with athletic builds. However, use your best judgement based on your preferences.
OUT-OF-THE BOX
Check for proper fit by wearing your shirt or jacket over whatever layer, layers or gear you plan to wear.
SHIN GUARDS
This is another easy one. Start with thinking you'll end up with a 17" size as most people do (especially those in the 5' 8" to 6' 1" range). Fewer wear the shorter or longer size. Still, measure for sure. The goal is simple, you want no gaps between your knee and your plate shoes. Easy-peasy.
Measuring for Leg Guards
Measure your leg from center of your kneecap down to where the shin guards will rest on your plate shoes. This will result in your shin guard size that you'll match up with shin guard sizes.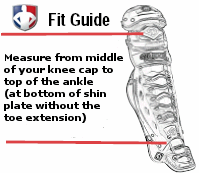 Note on Low Vs Mid-Cut Plate Shoes
Be aware a low-cut plate shoe will sit approximately 1 1/2" lower than your mid-cut plate shoe. It's best to measure with your plate shoes (or similar) on. We may have said that already.
NO-GAP PROTECTION
The overall goal is that you have no gap in protection from your knee down to your plate shoes. Therefore, you should always round up the next largest size if you are in-between. For instance, if you measure 16", while 15.5" is closer in size than to the 17" size, you are going to have a gap in coverage if you choose the 15.5" size in this case. Therefore, you would size up to the 17" to ensure you have no gaps in the bottom or top.
If you are in any doubt whatsoever, simply go up to the next size. Having an additional 1" to 1 1/2" in additional protection above the knee is more-than-ok, especially when compared to the alternative of having a gap somewhere that is now long enough for a baseball or softball to find.
Out-of-the-box
Put your shin guards on* with your plate shoes. Get in your stance. Look for any gaps. No gaps? Comfortable? You're good-to-go.
*Where does my knee go?
This is more an informative piece if you are unsure where your knee goes when you put on your shin guards for the first time. In general, the padding on the inside should provide a visual indicator. Otherwise, it depends on which shin guard you wear. If a single-knee (1 top cap) or double-knee (2 top caps), you want your knee cap to rest in the topmost cap. If a triple-knee (3 top caps), your knee will go in either the middle cap or bottommost cap depending on the umpire shin guard.
Flag Patches and Numbers Placement
Overview
The flag patch is usually worn on the left sleeve of your shirt, pullover or jacket (sometimes on the back below the collar). Any numbers, if required for your association, are typically worn on the right sleeve.
On short sleeve shirts, measure up from the top of the cuff. Flags should be placed 1 1/2" from their bottom and numbers 1" from theirs.
On long sleeve shirts, pullovers or jackets measurement should be from your shoulder seam to the top of your flag patch or number, with the distance varying by size:
Medium and Large: 4"
XL & 2X: 5 1/2"
3X and up: 7"
Specifics
For horizontal placement, it is best practice to crease the center line on the sleeve, as seen when laying the shirt, pullover or jacket flat on a table. In the case of the flag patch, place the center of the flag over the center line. For numbers, place the outside of each number the same distance from the center line.
Once you have the distances correct, cover the flag patch or number with a press cloth or pillow case and press with a 350 degrees or cotton iron setting for approximately 10 seconds to make it stick for sewing. Please consider the fabric when pressing as time may be longer or shorter to make it stick. Then, sew the flag patch or numbers on, preferably in a zig-zag stitch pattern.
Gloves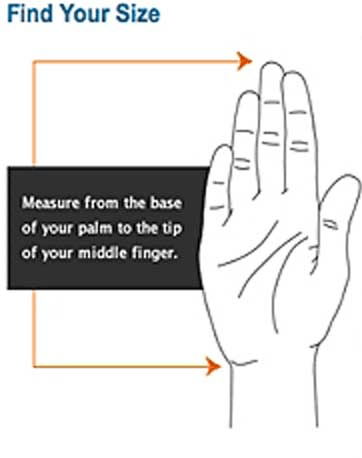 PANTS & SHORTS
Your waist size = Your pant size is mostly all you need to know. Unless otherwise noted, all pants are sized by actual waist size. We recommend that if you wear a 36 inch waist in jeans dress slacks, you'll wear a 36" in any pants available.
Measuring Your Waist Size
Our best recommendation is to pick a pair of pants that fits you well and use that size when ordering. The idea of measuring your waistline around your belly button is outdated advice given that you likely will not wear your pants there.
in-Between Sizes
As a general rule, we recommend you go up 1 size on all pants where you are in between or unsure of sizing.
SPORTS OFFICIALS PANTS FIT LOOSELY
As a sports official, you are expected to look professional but also to be athletic at the same time. With a varying amount of running, turning, bending and kneeling by sport, your umpire and referee pants are made to fit looser in the thighs than non-officiating pants. Umpire pants especially have a longer rise (under the zipper) to allow for repetitive bending.
tailored HEMMING
Pants are purchased unhemmed so you can hem them to your exact specification. It is particularly important for a sports official to look their best on the court or field. Tailored hemming is especially needed for umpire pants given that their pants have a longer rise, by design, than jeans or dress pants. Translation: hemming these pants to your normal hem length without having them measured properly may have less than desirable results.
If you do not have a tailor or seamstress, we recommend you find one in your area, to make any mends or alterations to any sports officials' clothing. (especially great for making adjustments to shirt sleeve length and tapering shirts).
When you visit a tailor or seamstress, make sure to have him or her measure you while you are in the pair of shoes you are planning to wear with your pants. For umpire plate pants, we advise you to also bring in your shin guards to wear. Shin guards are going to cause the fabric to extend outward, reducing your pants length (resulting in high waters). Generally, this will add 1" to 1 1/2" to your normal (e.g. base pants) hem length.
Other
The chart on the left below only pertains to shorts, tights and Dalco beltless referee pants.
The chart on the right provides additional dimensions on pants sized for women.
Men's Pants and Shorts Sizes
Women's Pants Sizes
 
Waist (inches)
 
Waist (inches)
Hips (inches)
S
26-28
2
26 1/2
34
M
30-32
4
27
36
L
34-36
6
28
37
XL
38-40
8
29
38
2XL
42-44
10
30 1/2
39
3XL
46-48
12
32
40 1/2
4XL
50-52
14
34
42
5XL
54
16
36
43 1/2
 
 
18
38
45 1/2
 
 
20
40
47 1/2
Note: Not all women's pants are available in the above sizes.
BELTS
The general rule of thumb is easy:
Go 1 Size Up (from your waist size) for leather umpire belts
Go 2 Sizes Up for patent leather (shiny) umpire belts.
Patent leather umpire belts are thicker than the genuine leather ones (and thicker than a casual or dress belt) and therefore add additional width due to this thickness.
For instance, if you are a 34" waist (your pants size), you would wear the following in an umpire belt:
36" Leather Belt
38" Patent Leather Belt
Belts are available up to size 56" online and then 58" or 60" as a special order. Please call in your order if your size is not available.
Out-of-the-Box
After putting on your umpire pants, lace the belt through your belt looops and around your waist. Button your pants then look down to see which hole the buckle would fit. There are 7 holes. If it fits into either the middle hole or the hole on either side, you for sure have a great fit. If you can only reach to the first hole, you need to go up 1 size. If you end up in the farthest hole, you will have too much belt outside your buckle and should consider going down a size.
CHEST PROTECTORS
Chest Protector Sizing
In most cases, chest protector size is about the length (some also have varying widths...more on that later).
When measuring for chest protector length, measure from your neck down to where you want the bottom of the chest protector to be positioned. Some say this is right at or above the belly button. It's really a personal preference that depends somewhat on your stance, level and experience. If you need extra length, some chest protectors have an additional sizing plate or extension.
Best Hard Shells for Taller Umpires: 
If you are a taller umpire, say 6' 1" or 6' 2" or taller and you want your ribs covered, some umpire chest protectors, due to their smaller size range, just will not do. Most likely a 14", 15" or perhaps more would be needed for taller umpires.
Here are our chest protectors and their lengths.


Chest Protector Lengths
 
Length (inches)

Wilson West Vest Platinum (hard shell)

12

Wilson West Vest Gold (hard shell)

11, 12 and 13*

Wilson Charcoal (hard shell)

13

Wilson Guardian (hard shell)

11 and 13

Schutt XV (hard shell)

13

 

 

All Star Stystem 7 (hard shell)

12 and 15

Douglas (hard shell)

12, 13 and 15

Champro Pro-Plus Plate Armor (hard shell)

13.5, 14.5 and 16*

Champion P2 (hard shell)

13, 15 and 17*

Diamond iX3 (soft shell with inserts)

14
(18 1/2 with sizing plate)

Champro Pro-Plus (soft shell with inserts)

13, 14 and 15*

 

 
Measuring By Chest Size
*Most umpire chest protectors that have multiple sizes are the same width even when their length increases. However, be aware there are some exceptions that will offer you the possiblity of a near custom fit. The following will increase in width as their length increases:
Wilson West Vest Gold
Champion P2
Champro Pro-Plus Plate Armor
Champro Pro-Plus
Choose your proper length first, then check to see if this size conforms with your chest circumference (jacket size). 
In general, if you are taller, whether you have a large frame or not, you might have no choice but choose the largest size option for length puposes. if you are shorter and slimmer, you'll choose one of the smaller options. if you are shorter and have a larger frame, you may consider sizing up to ensure an optimal length and width fit.
General Sizes and Chest Circumference

 
Chest (inches)
S-M
36 and Under
M-L
38-44
L-XL
46-54
With your arms relaxed at your sides, measure around the fullest part of your chest, keeping the measuring tape level and parallel to the floor around both the chest and ribcage.
General Tips
When in doubt, order the larger size if there is a choice between two sizes. The most returns we experience from protective gear are from the smaller sizes.
If you need it quickly and don't care to pay a little extra on return shipping, order 2 sizes and send the one that does not fit back for a full refund.
Out of the Box
Adjust the straps at the top and around the side so the umpire chest protector fits snugly without sliding. Typically, you will need to tighten it more than you think. While in your normal stance, check to make sure your collar bone by looking in a mirror and your ribs are covered by find them with your fingers. If they are, the chest protector is comfortable, and it's easy taking it off, then it's a winner!
Note that some hard shell chest protectors may take longer to conform in the shoulder area. If this is the case, use a hair dryer to heat this area and then gently bend.
HATS
Don't be afraid of fitted umpire cap sizes if you don't know yours. Simply read further and follow the chart below (or pull out your fitted baseball cap from your closet and look at the tag).
Measuring Your Hat Size
Basically measure around (circumference) your head where your hat will fit. This means starting about a 1/2 inch above your eyebrows, going just above the top of your ears and midway on your occipital bone (that little bone in the middle of the back of your head). Don't pull the tape too tightly or your hat will fit that tightly. If using a string, measure against a ruler. Measure 2 or 3 times to be accurate.
Fitted Hat Size Chart
Inches
Centimeters
Hat Size
21
53
6 5/8
21 1/2
54
6 3/4
21 7/8
55
6 7/8
22 1/4
56
7
22 5/8
57
7 1/8
23
58
7 1/4
23 3/8
59
7 3/8
23 3/4
60
7 1/2
24
61
7 5/8
24 1/2
62
7 3/4
25
63
7 7/8
25 1/2
64
8

If you are unsure or between sizes, buy the larger size.

Note that Richardson does an excellent job in the sizing of their caps. Every once in a while someone will say a cap doesn't fit like another brand cap. Typically the sizing issue is with the other brand.
FlexFit Fitted Size
If your fitted cap size is:
Order this Flexfit Size
6 5/8
1
6 3/4
1
6 7/8
2
7
2
7 1/8
3
7 1/4
3
7 3/8
4
7 1/2
4
7 5/8
5
7 3/4
5
7 7/8
n/a
8
n/a

Offers you the fitted look with a little give.

Although the 6 5/8 caps are not available in the fitted, order them in the No. 1 flexfit.

Out-OF-THE-BOX
Try it on and make sure it does not fit too tightly or so loosely that if falls off with movement. For umpires, caps worn with masks should fit snugly (some prefer only fitted sizes for this reason) so that when you take off your mask the cap does not come off easily with removal.
ADVANCED TIP FOR UMPIRES
If your cap comes off easily when you pull off your mask, try one of two things before considering a different cap size. Advanced umpires know to pull their mask out first before pulling up. For new umpires, this normally takes some practice. Moving your mask harness to where it attaches to the mask, at the face, to the outermost bars may also help.
SHOES & SOCKS
All shoes are in American men's sizes. See chart below.
In General
If your feet seem "between" sizes and you cannot decide which size to select, we suggest you choose the larger size. You can make adjustments for a better fit with socks, insoles, or a different lacing pattern.
D, 2E or 4E?
When you see D width, that is the standard width. For instance, if you go into a shoe store and ask for a size 12, the clerk will bring you a 12 in D width. 2E is considered a wide shoe and 4E an extra wide.
True to Fit?
As a general rule of thumb, all turf or court shoes (except Reebok) should be considered a true fit. Rest assured that manufacturers have done a much better job of making their plate shoes true-to-size by offering a little more room in the area of the in-step and toe box. This is important as this area does not give like a running shoe or cross-trainer will. So order your size, but if you are in between sizes or still a little unsure, going up a half-size or a wider width are common practice.
Reebok shoes run narrow and typically available in only D width.
Advanced Tips
If your feet are too small or slip out of your shoes, consider an extra pair of socks, insoles, heel cups or another shoe or size. Have your feet measured every year as feet typically get bigger with age.
After you Wear Them
Look for any signs of foot cramping, numbness, blisters or calluses as this may be a sign your shoes are too small or narrow.
Note for Women
We continue to encourage manufacturers to make smaller sizes. We apologize that we have fewer options for many of you.
Larger Sizes
The largest shoe size made for umpire and referee shoes is size 15. There are no shoes available in sizes higher. In those cases, a steel toe work boot or shoe in conjunction with the toe cap of the leg guards may provide the coverage you need.
Shoe Conversion
Men's Sizes
Women's Sizes
UK
Euro
Centimeters
6
7 1/2
5.5
38.5
24
6 1/2
8
6 
39.5 
 24.5
7
8 1/2
6.5
40
25
7 1/2
9
 7
 40.5
25.5 
8
9 1/2
7.5
41.5
26
8 1/2
10
 8
 42
 26.5
9
10 1/2
8.5
42.5
27
9 1/2
11
9 
 43
 27.5
10
11 1/2 
9.5
44
28
10 1/2
12 
 10
44.5 
 28.5
11
 
10.5
45
29
11 1/2
 
 11
45.5 
29.5 
12
 
11.5
46.5
30
12 1/2
 
12
47
30.5
13
 
12.5
47.5
31
14
 
13.5
49
32
15
 
14.5
50
33
 **Source: New Balance
Figuring Sock Size from Shoe Size
Sock Size
Women's Shoe Size
Men's Shoe Size
8.5 - 11 (Medium)
5.5 - 10.5
4.5 - 8.5
10 - 13 (Large)
11 - 13
9 - 12.5
13 - 15 (X-Large)
 
13 - 15
Out Of The Box
Try them on at the end of the day when your feet are largest with socks you will wear with them. You should have enough room in the toe area to wiggle your toes. The ball of your foot should fit comfortable at the shoe's widest spot. Your heel should fit snug with no slipping when you walk.
Use this Product Sizing Chart to determine which size to order:
Use this Compression Gear Sizing Chart to determine what size Compression Gear to order:
| | | |
| --- | --- | --- |
|  MEN | CHEST | WAIST |
| S | 34-36 | 25-27 |
| M | 38-40 | 29-31 |
| L | 42-44 | 33-35 |
| XL | 46-48 | 37-39 |
| 2XL | 50-52 | 41-31 |
| 3XL | 54-56 | 45-47 |
| 4XL | 58-60 | 49-51 |
**IMPORTANT**:  Various laws prohibit the return & exchange of compression gear once the bag has been opened.
Use this Hat Sizing Chart to determine what size hat to order:
| | | | |
| --- | --- | --- | --- |
| INCHES | CENTIMETERS | FITTED SIZE | FLEX FIT SIZE |
| 21 5/8 | 55 | 6 7/8 | ---- |
| 22 | 56 | 7 | S/M |
| 22 3/8 | 57 | 7 1/8 | S/M |
| 22 3/4 | 58 | 7 1/4 | S/M |
| 23 1/8 | 59 | 7 3/8 | S/M |
| 23 1/2 | 60 | 7 1/2 | L/XL |
| 23 7/8 | 61 | 7 5/8 | L/XL |
| 24 1/4 | 62 | 7 3/4 | L/XL |
| 24 5/8 | 63 | 7 7/8 | L/XL |
| 25 | 64 | 8 | L/XL |
| | | | |
OTHER SIZING TIPS:
Football Pants tend to run about one size small
Basketball Slacks tend to run a bit small
Shirts tend to run one size small
Shorts tend to run large
Stretch-Fit hats tend to fit true to size
Leather Belts should be bought about one size larger than your waistline